Mastectomy Fittings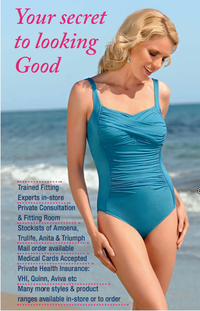 We stock a full selection of styles and brands. Our fitter will help you choose the most appropriate Breast Form to suit you and your lifestyle.
Advantages of using our service:
- Trained Fitting Experts in Store
- Private Consultation & Fitting Room
- Stockists of Amonena, Trulife, Anita & Triumph
- Mail order available
- Medical Cards Accepted
- Private Health Insurance: VHI, Quinn, Aviva etc.
- Many more styles & product ranges available in-store or to order
Trial without risk with Amoena Contact
Using the latest technology, to ensure complete security, Contact Breast Forms adhere directly to your skin so that they will not slip or move, even when you bend forward or raise your arms. Easy to use, they help create a balanced body image and are extremely comfortable to wear. Suitable for women with active lifestyles or those who have back problems or lymphoedema.
You can avail of a Free Trial of the Amoena Contact Breast Form and if for any reason you are dissatisfied, it can be exchanged for a different Amoena Breast Form during the first three months from the date of fitting. Terms and Conditions apply, call our trained fitter for details.
091-520115
065-6820099
Last update: 15/05/2013 10:17 • Previous update: 30/11/-0001 00:00